Since the coronavirus pandemic outbreak, people in different parts of the United States have been unable to leave their homes. In fact, a significant number of them are seniors who may still want to access essential medical care without attending a physical healthcare facility.
Fortunately, Medicare has expanded to cover a wide range of telehealth services to account for the sudden change. The expansion of Medicare to cover these services has helped more individuals access essential Medicare without leaving their homes during the public health crisis.
This week's post outlines the critical role that telehealth plays during the COVID-19 pandemic, highlighting all telehealth services that Medicare covers.
Telehealth, Medicare, and COVID-19: The Interlink
The outbreak of COVID-19 didn't mean that people stopped experiencing other medical needs while staying at home to minimize the spread of the virus.
However, there is still a need to stick to social distancing guidelines while looking after your physical and mental health. Telemedicine (telehealth) provides you with an effective alternative to an in-person appointment.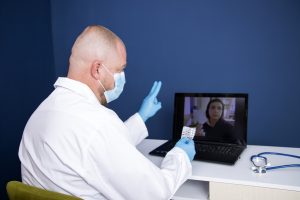 With telehealth services, you minimize physical contact with other patients and still get help with many essential healthcare needs. Although telehealth services have been around since the early 1960s, they only became more important after the outbreak of coronavirus.
Telehealth services provide you with an option of receiving essential medical services without leaving your home.  It is the best way to ease your concerns if you need to seek consultation with your doctor without the fear of going out and contracting the virus.
What Part of Medicare Covers Telehealth Services?
Medicare Part B will come in handy when you want to cover your telehealth services. Typically, Part B covers outpatient services and, in most cases, this is where telemedicine falls.
However, you must keep in mind that Medicare doesn't cover your telemedicine services 100%.  It only pays 80% of the incurred cost, while you will be responsible for the remaining 20%.
According to Medicare.gov, Medicare beneficiaries pay the same amount for telemedicine services as they would for in-person services. Individuals with Medicare Advantage generally have similar coverage for telehealth services as those with original Medicare (Medicare Parts A and B). However, some Medicare Advantage plans usually offer expanded telehealth services.
Since Medicare Advantage plans are underwritten by private insurers, the exact telemedicine services that an individual's plan includes vary. Therefore, it is always good to determine coverage through your Medicare Advantage provider directly.
How Do I Know If I'm Eligible
Typically, once you are enrolled in Original Medicare (Part A and B), you will be eligible for telehealth services. You are automatically eligible for Medicare if you are at least 65 years old, unable to work because of a diagnosed disability or if you have the end-stage renal disease (ESRD).
If you have Medicare Part B coverage, you need to visit a healthcare facility for your telehealth services. Ensure you check your plan to determine if you need to go to an approved facility for your telemedicine services.
Some of the approved facilities usually include hospitals, doctor's office, rural health clinics, critical access hospitals, and skilled nursing facilities.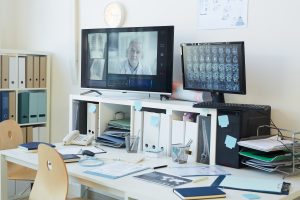 You should also keep in mind that the type of telehealth services you receive with original Medicare will mostly depend on your location. To enjoy these services, you must live in a county outside the Metropolitan Statistical Area or a Rural Health Professional Shortage Area.
Unfortunately, these areas are usually determined by government agencies. You can check your current location's eligibility on the HRSA official website.
Which Services Are Covered?
The primary purpose of expanding Medicare coverage to cover telehealth services was to reduce in-person medical visits limiting the spread of COVID-19.
The truth is that telemedicine remains effective in managing a wide range of medical problems. But, it cannot attend to all medical concerns and some services may still require you to visit a hospital in-person.
Some of the common telehealth services that Medicare covers include:
Speech therapy
Doctor's office visits
Occupational therapy evaluations
Group psychotherapy
Therapeutic exercises
Physical therapy evaluations
In some cases, Medicare will also cover telemedicine sessions meant to evaluate coronavirus symptoms.  With telehealth services, the process is quite simple and straightforward.
Typically, you will connect with your healthcare provider through a telehealth visit. After the visit, your healthcare provider will further assess your situation and establish if you need to visit the healthcare facility in person for further testing and treatment.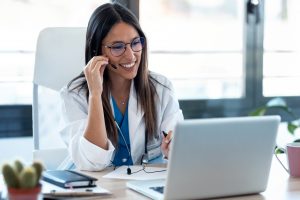 We have to mention that a significant number of Medicare beneficiaries are over 65 years old and have an increased risk of complications when they contract COVID-19. Telemedicine provides these seniors with an effective way of decreasing the risk of contracting the virus.
Typical telehealth services may include routine medical checkup, mental health services, and health screenings. The expanded telemedicine services allow you to continue receiving regular medical services without travelling to see the healthcare provider in-person.
Are There Any Restrictions on Medicare Telehealth Coverage?
A few years ago, there were a few restrictions for Medicare telemedicine coverage.
For instance, Medicare could only cover telehealth services in specific circumstances, including when an individual lived in a remote area and was staying in an assisted living facility such as hospital-based dialysis facility or skilled nursing home.
However, the government-sponsored program has become more flexible thanks to the Coronavirus Preparedness and Response Supplemental Appropriations Act that was signed into law in March 2020.
In the past, any changes made to the coverage of telehealth services coverage were only effective for a calendar year. However, with the outbreak of the novel coronavirus and the expansion in coverage, it is still not clear whether these changes are permanent.
Final Thought
Telehealth provides you with an effective way of receiving essential medical services without leaving the comfort of your home. Medical services are provided through the use of technology such as videoconferencing.
Medicare Part B has been expanded to cover telehealth. However, only certain locations and healthcare professionals are covered. Therefore, if you are interested in receiving telehealth services under your Medicare coverage, make sure you speak with your primary healthcare provider first. Don't assume anything because you may end up incurring a huge bill.
Contact us today if you have any questions regarding your Medicare coverage, and one of our licensed Medicare experts will gladly help you!