Are you a Medicare beneficiary? Do you know you have a free annual wellness visit fully covered by Medicare?  Besides the Initial Preventive Physical Examination (IPPE) during the first year of your coverage, you are also entitled to a yearly wellness visit after that.
Honoring your annual Medicare wellness visit is an excellent way to maintain your overall health. The visit is covered under Medicare Part B and mainly focuses on developing a personalized prevention plan to lower your risk of contracting diseases.
While there is no cost for the wellness visit itself, you may be required to pay some money if your doctor recommends or performs additional medical services during the visit.
Before you go out to meet your doctor for the annual Medicare wellness visit, ensure you check your Medicare plan materials to see if your plan covers additional preventive services.
In this post, we outline some of the essential things you need to do while preparing for your annual wellness visit and what to expect during the session. So, let us get started.
What To Expect from Your Annual Medicare Wellness Visit
When you first sign up for Medicare, you will be required to undergo the Initial Preventive Physical Examination, also known as "Welcome Visit."
The welcome visit is an intensive examination that involves taking a health risk assessment, screening for cognitive impairment and depression, reviewing your medical history and family history, reviewing your functional ability and level of safety, identifying providers, and documenting your medications.
After the assessment, your doctor will develop a personalized disease prevention plan. The plan may involve planning the preventive screenings and medical services you may need over the next ten years.
However, the annual Medicare wellness visit is less vigorous and takes less time. The more prepared and organized you are, the less time it will take, and the more productive the session will be.
In most cases, you will only be updating the information you already shared with your healthcare provider. He/she may use the opportunity to ask you about your perceived level of safety or screen you for any changes in your cognitive abilities.
During your visit, your healthcare provider may measure your weight, height, temperature, blood pressure, pulse and listen to your heart rate.
However, most of the time will be spent discussing your daily habits, goals, family history, risk factors for diseases, and family history.
What Should You Bring to Your Wellness Visit?
Typically, the more organized and prepared you are, the better the outcome. Therefore, it is always a good idea to gather the following information to take with you to your annual wellness appointment:
A comprehensive list of all the medications you are currently taking. This may include prescription, non-prescription, supplements, herbals, and vitamins. If you don't want to write the list, simply put the drug bottles in a bag and take them to your provider.
Your completed health history form and any other health risk assessment form that may have been sent to you by your doctor in advance.
A list of questions or concerns you want to discuss with your doctor.
A comprehensive list of all the healthcare providers you see, including their full names and contact details.
How to Get Ready for Your Annual Wellness Medicare Visit
Once you have booked your appointment, it is time to start preparing for the visit. There are a few things you can do to get the most out of your visit. Here are some of them:
1. Confirm that your healthcare provider offers the wellness visit
Not all healthcare providers are approved to offer wellness visit services. If your provider doesn't provide such services, ask them to refer you to a different provider who can help you.
If they cannot refer you to another provider, make sure you contact your local chapter of the National Council on Aging for further guidance.
2. Compile a list of all your providers
It is essential to provide a list of all your providers, including what you see them for and their contact details if possible. Do you see a rheumatologist, cardiologist, neurologist, podiatrist, or dietician?
Don't forget to include their official names and location as well.
Sometimes, your healthcare provider may request you to sign releases so they can have access to your medical records and test results from other healthcare providers.
3. Don't forget to look at your calendar
Before you book your wellness visit appointment, ensure you are within your first year of coverage for the initial visit, or it has been at least one year since your last wellness visit.
4. Be prepared to take notes
You and your healthcare provider will discuss a wide range of issues touching on your health. He/she may also come up with a suitable plan for future screenings and preventive healthcare services.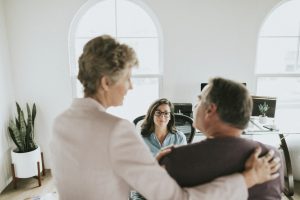 The healthcare provider may refer you to a healthcare educator or counselor to educate you on your risk factors for various diseases and what you need to do to stay safe.
Be prepared to take a lot of notes and read them once you are home.
5. Write down all your questions and concerns
No question or concern is unimportant. Take time and list down all questions or concerns you may want to discuss with the healthcare provider. Take the list with you, and be sure to ask every question.
If you think you haven't received the answer to your question or didn't understand something, ask your provider to explain it differently.
6. Complete any paperwork or fill online forms in advance
If possible, make sure you complete the required paperwork, such as your medical and family history information, well in advance. Take the completed forms with you.
Filling such forms earlier can save you a lot of time and provide you with more time to discuss your health with your doctor.
You can always add information to the forms as your appointment comes closer.
7. Take screening results with you
Lastly, make sure you have all your regular screening results. This may include your colonoscopy and mammography screening results.
Bring along a copy of your latest screening results and immunization history, including the exact dates they were done.
Having your screening results can help you avoid undertaking the tests for the second time or receiving unnecessary immunizations. It can also save you from paying extra charges.
The Bottom Line
If you have been enrolled in Medicare Part B for more than one year, you may be eligible for an annual Medicare wellness visit fully covered under your Part B plan.
During the visit, your doctor will check your overall health status and update your information accordingly.
Make sure you are fully prepared for the visit to make it fruitful and helpful.
Do you still have questions about your wellness visit? Contact us today to speak to one of our licensed Medicare experts, who will guide you further.