The Medicare Advantage program serves as an excellent alternative to Original Medicare, in which health care coverage is usually provided by private insurance companies and reimbursed by the federal government.
The program has two different funding sources: the monthly premiums of beneficiaries and the Centers for Medicare & Medicaid Services (CMS). The CMS usually pays the private insurance companies a fixed amount of money every month for each beneficiary's expected healthcare costs.
This post discusses everything you need to know about Medicare Advantage funding, highlighting some of the factors that determine how much CMC sends to Advantage plan providers. So, let us get started.
Medicare Advantage Program Funding Overview
Medicare Advantage plans are designed to pay for the healthcare services that would otherwise be covered by Medicare Parts A and B. They also offer additional coverage depending on the specific plan you choose.
Typically, Medicare Part A covers healthcare services in institutions such as hospitals and healthcare centers, except for hospices. Medicare Part B is designed to cover outpatient services such as routine doctor visits.
Medicare Advantage plans may also provide additional coverage for services such as routine dental care, routine vision care, and hearing aids.
Therefore, it means that some funding for the Medicare Advantage program comes from the monthly premiums that beneficiaries pay. But that is not enough to keep these plans in operation. That is where Medicare, through CMS, steps in to fill the deficit.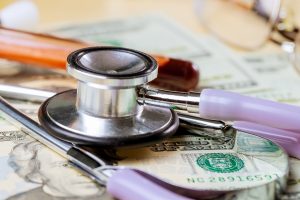 Every month, Medicare pays Advantage plan providers a fixed amount of money dedicated to covering Medicare Parts A and B costs of beneficiaries. If a plan also offers prescription drug coverage, then Medicare remits another separate payment for the same.
The amount of money paid to each provider depends on two crucial factors, namely:
The standard healthcare practices in the state or county where each beneficiary lives which influences the bidding process.
The overall health of each beneficiary which determines how Medicare raises or lowers the average rates in a system referred to as risk adjustment.
A Quick Overview of the Bidding Process
The Medicare Advantage program bidding process usually involves two steps.
First, each plan provider submits a bid to Medicare based on their estimated cost of Medicare Parts A and B benefits per beneficiary.
Medicare then compares the submitted bid amount against a standard benchmark. The benchmark, in this case, is a percentage of average costs that Medicare spends on every individual.
Medicare has a benchmark for each county in the country. The benchmark reflects the common practice patterns of resident healthcare providers that usually bill Medicare. These practice patterns may differ significantly among counties, which is why each county has its own benchmark.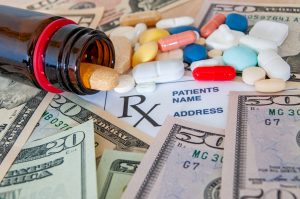 When the plan provider's bid is higher than the benchmark, the beneficiary is required to pay the difference between the two amounts. This payment forms the monthly premium, and the beneficiary will pay this amount in addition to the Part B premium.
However, if the bid is lower than the projected benchmark, the plan provider gets rebates from Medicare, a percentage of the difference between the bid amount and the benchmark.
Plan providers that receive rebates from Medicare are expected to use a portion of the rebates to fund additional benefits or lower the monthly premiums. That is why we have some plans that charge $0 in monthly premium.
A Quick Overview of the Base Rate and Risk Adjustment Rate
Medicare Advantage program utilizes the bid and benchmark to calculate the base rate. Typically, when the provider bid is lower than the benchmark, it automatically becomes the base rate.
However, when the bid is higher than or equal to the benchmark, the benchmark automatically becomes the base rate.
Once the base rate has been established, Medicare uses the risk adjustment approach to change the base rate to reflect the expected healthcare costs of every beneficiary enrolled in a Medicare Advantage plan.
For instance, if an individual has a risk score of 1.0, it means that the person's anticipated costs are equal to those of an individual with average health. However, if someone has a risk score of 0.5, then it means that their expected health costs are half of those of an average person.
Other Sources of Funds for Medicare Advantage Programs
So, what are the other sources of funds for Advantage plans apart from Medicare and monthly premiums? Let us find out:
1. Affordable Care Act (ACA)
The ACA guarantees stable and continuous funding of both Medicare and Medicare Advantage programs until at least 2029. The Act also aims to cut costs to the federal government by eliminating fraud and waste in administering these programs.
Before the Act, Medicare was paying approximately 14% more per patient in Medicare Advantage plans than traditional Medicare.
However, things have changed, and the federal government is projecting to save approximately $68 billion through 2026 by eliminating the excess payments to private insurance companies.
2. Medicare Trust Funds
Medicare usually pays for Medicare Advantage out of two funds that are held in trust by the treasury.
The Hospital Insurance Trust Fund pays Medicare Part A coverage and administrative costs, and the Supplementary Medicare Insurance Trust Fund pays for Medicare Part B benefits.
The Hospital Insurance Trust Fund is mainly funded by self-employment taxes and federal payroll, while the Supplementary Medical Insurance Trust Fund receives its funding by a vote of Congress and through monthly premiums that beneficiaries pay for Part B coverage and prescription drug coverage.
3. Other Costs to Patients
Medicare Advantage beneficiaries are also expected to pay part of the healthcare expenses through cost-sharing. While each Advantage plan is different, most of them usually charge at least one deductible every year.
A deductible refers to the amount of money you must pay out-of-pocket before your insurance starts to cover your hospital bill.
After you pay the deductible, you will generally be expected to pay a specific portion of the remaining amount known as coinsurance.
What Percentage of Medicare Spending Goes to Medicare Advantage Plans?
In 2020, Medicare payments to Medicare Advantage plans meant for Medicare Parts A and B funding were approximately $343 billion, representing about 33% of Medicare's total spending.
On average, at least 34% of Medicare beneficiaries chose to enroll in Medicare Advantage in 2020. However, the percentage of residents enrolled in Medicare Advantage varies by state.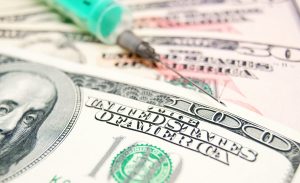 Vermont has the lowest number of Medicare Advantage enrollees, while Puerto Rico and Minnesota have the largest number.
As the number of people enrolling in the Medicare Advantage program continues to rise nationwide, the percentage of total Medicare spending on Advantage plans will only rise.
Summary
While the Medicare Advantage program is partially funded through monthly premiums, a significant part of its funding comes from Medicare. Private insurers that offer these plans usually receive a monthly payment from Medicare for the expected health costs of Medicare parts A and B for each enrollee.
With the increasing number of seniors preferring Medicare Advantage to Original Medicare, the funding from Medicare to plan providers is expected to increase over the coming years.
Do you still have any questions about the Medicare Advantage program or want guidance on choosing a plan that suits your needs and budget? Contact us today to speak to an experienced and insured Medicare Advantage representative.