Medicare is one of the most prevalent healthcare insurance plans in the U.S, thanks to the many benefits it offers.  When you first enroll for Medicare coverage, you will be expected to attend a "Welcome to Medicare Visit" that is also referred to as the Initial Preventive Physical Exam.
Unfortunately, this benefit is often misunderstood and overlooked. The National Institute of Health says that only about 13% of new Medicare enrollees usually take advantage of the free health visit every year.
The Welcome to Medicare Visit provides you with an incredible opportunity to get to know your primary doctor and discuss a wide range of issues concerning your overall health. It is also the perfect time to catch up on all of your preventive screenings and learn more about Medicare benefits.
So, if you are enrolling in Medicare this year or you have been enrolled in the plan for less than 12 months, you are in the right place.  This blog post discusses everything you need to know about your Welcome to Medicare Visit.
What Is Welcome to Medicare Visit?
When you first enroll in Medicare Part B, you are entitled to the option of scheduling a "Welcome to Medicare" physical checkup. The checkup is 100% optional and can take place at any time during the first 12 months of joining the program.
The Welcome to Medicare checkup isn't as detailed and thorough as the annual wellness visit.  The cost of the visit is fully covered by Medicare Part B. There is no deductible or coinsurance as long as you use a participating healthcare provider.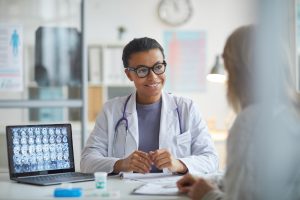 The primary purpose of the visit is to allow you to meet with your primary healthcare provider and discuss with them any health concerns you may have.
Typically, the doctor will perform simple health tests and, if necessary, create a comprehensive plan of care.  The primary goal here is to promote wellness and prevent future illnesses by identifying risk factors as early as possible.
However, if your doctor identifies a new or existing medical condition that needs treatment during the visit, Medicare may charge you for the treatment.
What Does Welcome to Medicare Visit Include?
Typically, your Welcome to Medicare Visit will include the following aspects:
1. Physical examination
The doctor will perform a comprehensive physical examination that includes recording your height and weight, taking your blood pressure, calculating your body mass index, and performing a simple vision test.
2. Review of medical and social history
Your doctor will take time to review your social and medical history. This includes any diseases or medical conditions that run in your family, previous illnesses or surgeries you may have experienced, and any medications or dietary supplements you are currently taking.
They will also review a wide range of lifestyle factors such as your level of physical activity, history of tobacco/alcohol use, and your diet.
3. Education
Based on the information the doctor collects during the entire session, they will advise you on a wide range of topics, including any recommended screenings you need to take, referrals for specialist care, vaccines such as the pneumococcal vaccine or flu shot, and advance directives such as if you need to be resuscitated if your heart stops functioning.
4. Safety and risk factor review
Your primary doctor will most probably use screening tools or questionnaires to determine things such as your risk for falls, signs of hearing loss, your risk for developing depression, and the safety of your home.
Is the Medicare Welcome Visit the Same as the Annual Wellness Visit?
The truth is that both the Welcome to Medicare and Annual Wellness Visits aim to keep track of your overall health. The two events offer relatively similar health assessments but are two different things.
The Welcome to Medicare Visit physical examination only takes place during the first 12 months of enrolling, and it is only a one-time assessment.
Once you have had your Medicare coverage for at least one year, you can start attending the Annual Wellness Visit each year. During the Annual Wellness Visit, you will be expected to complete a comprehensive health risk assessment test.
Your doctor may also perform a cognitive impairment test to look for early signs of dementia or Alzheimer's disease.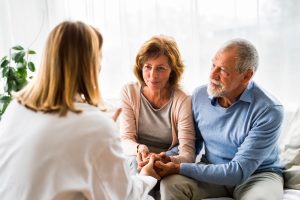 The doctor will use all the information gathered to create a highly personalized disease prevention plan for you. The plan's primary goal is to prevent any future illnesses or conditions based on your current health status and potential risk factors.
He/she will keep on updating your disease prevention plan on each Annual Wellness Visit. It means that the plan evolves with you to ensure you get the best possible care.
You don't have to pay for your Annual Wellness Visit, and there is no Part B deductible. However, like Welcome to Medicare Visit, Part B deductible and coinsurance may apply if the doctor finds it necessary to order additional tests.
Who Can Perform a Welcome to Medicare Visit?
Your primary doctor can perform your Welcome to Medicare Visit if they accept Medicare Assignment. It means they should be Medicare-approved and agree to receive payment directly from Medicare for services offered during the visit.
However, the doctor must inform you before performing any tests or other medical services that are not included in the Welcome to Medicare Visit plan. This way, you get a chance to choose whether you want to receive the services or not.
Who Is Eligible for the Welcome to Medicare Visit?
Anyone enrolled in Medicare Part B is eligible for the Welcome to Medicare Visit. Keep in mind that you have 12 months from the day your Medicare coverage becomes active to complete the examination. The benefit is available whether you enroll in Original Medicare or Medicare Advantage.
What Are the Other Preventive Care and Tests that Medicare Offers?
The primary purpose of preventive care is to identify risk factors as early as possible to help you seek treatment before the condition becomes severe. Medicare program covers a wide range of preventive services and screening tests.
Some of the covered screening tests include:
Bone mass.
Galucoma.
Cancer screening.
Cardiovascular disease screening.
Obesity.
Diabetes.
Depression.
Hepatitis B and C.
Abdominal aortic aneurysm.
HIV screening.
The program also covers a wide range of vaccines, including those for influenza, pneumococcal disease, and hepatitis B for individuals at medium or high risk.
Medicare beneficiaries can also access a wide range of counseling services, lifestyle training,  and therapies, including alcohol misuse counseling, STI counseling, diabetes self-management training, obesity counseling, tobacco use counseling, and nutrition therapy services.
Final Thought
Preventive healthcare is always critical for the early detection and prevention of various diseases. The Welcome to Medicare Visit can aid your primary healthcare provider in assessing your overall health and making informed recommendations.
Make sure you schedule your Welcome to Medicare Visit within the first 12 months of starting Medicare. Remember that this visit isn't the same as your Annual Wellness Visit, and things such as screening examinations and laboratory tests aren't included.
If you have any questions regarding your Medicare coverage, don't hesitate to contact us to speak to one of our licensed Medicare agents. We are here for you!